T.This is a "Martian Guitar" manufactured from recycled wood and metal scraps with an amplifier made from a coffee pot. Surprisingly comfortable chairs, rugs and curtains are made from parachute material that may have been used by Mars landers. The sleeping pod's bedding is decorated with dyes from plants, and the "mist shower" is made using a piece of hose and a garden irrigation spray.
For the past ten weeks, the people of Bristol have been participating in an otherworldly art project. It is to provide a golden materialized 'Mars home' during the summer months by Bristol's harbor side, using only recycled materials and materials. reused object.
The idea is to give a glimpse of what life might be like if a human colony were to be established on Mars, with limited living space, possessions and equipment, and how the Earth's finite resources would be used. It is intended to make people reconsider what they should do.
Nicki Kent, one of the two artists behind the project, said: Second girlfriend Ella Good adds: If you were limited, what would you value, what would you invent, what would you create?"
The house itself took seven years to plan and build. This painstaking process involved space scientists, architects, engineers, designers, and schoolchildren who helped form his basic two-story shell.
It is powered by solar panels and designed to withstand the environmental challenges facing Mars, including -63°C temperatures and exposure to radiation.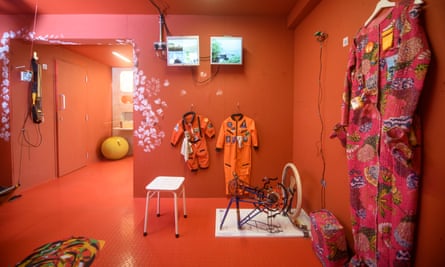 The upper floor is made of pressurized, inflatable gold-coated foil, which on Mars may be packed with Martian regolith (soil). The lower floor – a pair of shipping containers – is buried underground and contains two compact bedroom pods, along with a shower and a 'Martian toilet'.
Since August, people in Bristol have been invited to create objects that fill these small spaces.
A retired engineer and music lover built the guitar. "He used what he found around his house," said Goode. "Old cupboard shards, coffee pots, things like that." If this musician ever goes to Mars, there's a good chance he'll be able to repeat the exercises using discarded Mars mission paraphernalia.
One participant learned to recycle paper and made a set of playing cards. Another made clay (using Watchet soil from the Somerset coast, whose geology is similar to Mars) to model a pot. Someone else has built a bike that is powered by a dynamo and fan linked to lights to create a wind that reminds the user of the wind on Earth.
A pillow in one of the bedroom pods is stuffed with lavender and mustard seeds that can be grown inside the house and may remind the sleeper of the lovely scents from the earth. . The second, perhaps less romantic, is stuffed with human hair. rice field.
Another artist helped design an outfit that could be worn on the pod. Adult suits that double as sleeping bags are made from beautiful fabrics, while children's suits are decorated with pictures of their favorite toys, bears, plastic dinosaurs and Superman.
Visitors had one last chance to get inside the home this weekend before it is demolished. The artist, a resident of Watershed's Pervasive Media Studio, hopes to tour the upper part of the UK while the lower section is being recycled, just in case.
"They said they would use every last screw," Kent said. "It's good to think that it continues to serve a really useful purpose."